I didn't get to be nearly as active as I wanted to this week. I usually try to get 3-5 workouts in. Great if I can do 5, but this week, I only hit the minimum of 3. Oh well. I felt really tired this week like my energy has just been sucked out of me.
We (my company) recently moved all of our equipment into the new datacenter, so Jose, Anar, and myself have been spending a lot of time there to work on the servers and configure them. Hopefully, soon, we won't have to go back there so much. I think being in that windowless, loud server room all day zaps my energy.
We are still waiting on little Baby G to make his/her appearance. I don't know who wants it out more, me or her, but it would be an understatement that we are ready to not be a pregnant couple anymore.
Monday, 4/11/2011: Skipped. Exhausted. Went to visit my grandmother while V was out with Paula.
Tuesday, 4/12/2011
Back Squats: 10 – 8 – 6 – 4 – 2 – 1 – 6, then 20 @ 50% of 1 rep max
Weights: 220# – 240# – 270# – 290# – 300# – 310# – 220# – 175#
I was pretty happy with this, but I was really sore for the rest of the week!
Wednesday, 4/13/2011
Dragged myself into the gym. I felt like it was a good day to face one of my fears, the 24" box jump. The WOD was:
5 rounds:
15 box jumps
7 push jerk @ 155#
Rest 2 minutes
I have to say that I debated using 155#, but it turned out OK. I ended up getting faster on each round. My first round was the slowest b/c I messed up cleaning the weight, had to drop, then re-clean. After that round, though, I did all of the push jerks unbroken. The best part of it all is that now I can cycle my 24" box jumps without fear! Added bonus, I beat the lunch class =)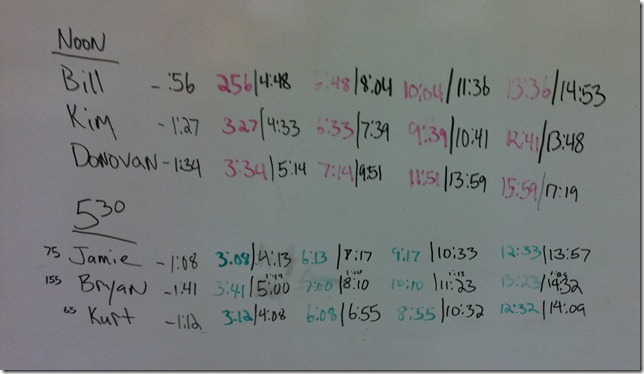 Thursday, 4/14/2011: Had to go grocery shopping. No time.
Friday, 4/15/2011: Got to the gym, hung out with V for about 30 minutes then realized I could barely keep my eyes open. Looked at the weights and realized that this wasn't happening. Sorry, Fio!
Saturday, 4/16/2011
WOD 11.4 for the CrossFit Open. Yay.
10 minute "AMRAP" (LOL, are you fucking kidding?!)
60 bar facing burpees (have to jump over the bar after each burpee)
30 overhead squats @ 120#
10 muscle ups
I took the burpees at a moderate pace so as not to gas myself out. I knew wasn't going to get to the muscle ups, so I just tried to get as much done as I could. I ended up with 84 reps total. If I could do it again, I would focus more on squat snatching the weight after I dropped. Still though, I am happy with this.
I spent the rest of the day working on things that needed to get done around the house. I hung a little shelf outside out back window for the cats to use when they go outside through the window cat door, I cleaned our shower, I weeded out flowerbeds, and lastly, I built an HDTV antenna on the cheap that works WAY better then the crappy one that I PAID for. Check it out:
Maker Workshop – DTV Antenna & Steadicam on MAKE: television from MAKE magazine on Vimeo.