I made this dish on Valentine's day. I loved it… V, not so much. At any rate, I thought I'd post it in case anyone was interested. Incidentally, if you want to make this a "paleo" dish, just don't use the Parmesan.
What you need:
2 Chicken Breasts
Spinach
Sun dried tomatoes
Mushrooms
Garlic
Fresh Asparagus
Parmesan Cheese
Tomato Sauce
Heavy Cream
Olive Oil
Butter
Coconut Oil
Salt
Pepper
How you do it:
1) Make the filling. Start by chopping up the spinach, mushrooms, and sun dried tomatoes.
2) Get a large pan going over medium heat. Add about a tablespoon each of butter and coconut oil. Throw the mushrooms in.
3) Cook the mushrooms until they look like this:
4) Add about 1 tablespoon of minced garlic. Cook until it starts to brown.
5) Add in the sun dried tomatoes and cook for a minute or two.
6) Add in the spinach and cook until wilted.
7) Add in a good handful of Parmesan cheese. Season also with a pinch of salt and some black pepper. Mix it up until the cheese starts to melt. Cut the heat off.
8) Transfer the filling to a bowl and let it chill.
9) Using a fillet knife, insert into the top of your chicken breast and make a pocket. Make the hole just big enough to stuff the filling in. Stuff as much filling into the pocket as you can, then season the chicken breasts with olive oil, salt, and black pepper.
10) Add more butter and coconut oil to the pan, again over medium heat.
11) Place chicken in. Cook 3-4 minutes each side until nicely browned. Place in oven (375F) for about 10 minutes or until the juices run clear.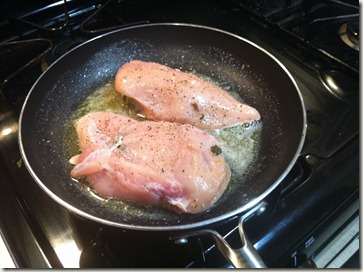 12) Remove chicken from pan. Add about 1/2c of tomato sauce, then place back on med/low heat. Let the tomato sauce reduce a bit, then add 2 tablespoons of heavy cream. Stir, then place the chicken back into the pan and coat it with the sauce.
13) I plated this with a bit of diced up cherry tomatoes and some roasted asparagus (olive oil, salt, pepper, then placed in the toaster oven on 400F for about 10-15 minutes).